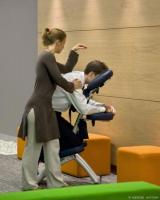 Seated massage, both relaxing and stimulating
Based on the Japanese traditional art Amma, ancestor of Shiatsu, seated massage acts on the meridians of acupuncture, rebalances the energy flows and has an immediate relaxing effect.
Focusing on the head, neck, shoulders, back, arms, hips and legs, therapists use their hands and elbows to stretch and place pressure to ease tensions and relax stiff muscles.
Clients remain fully dressed and enjoy a relaxing and stimulating massage in just 15 minutes.
Seated massage is a perfect corporate wellness tool which can easily be integrated into any company event (conference, seminar, teambuilding,...) or can be organised regularly on-site, in place of a normal coffee break!

Benefits of seated massage are numerous:
· Stress reduction
· Freedom from back pains, muscular and nervous tensions
· Improved blood circulation and brain oxygenation
· Increased concentration, creativity and intellectual performances
· Satisfaction and motivation boosting!
Worried that the organization of such regular activities might increase your staff's workload?
"Konki Club", our on-line system, manages planning and reservations of all in-company massage or fitness services, without any intervention from your part!
A corporate event? a VIP evening?
Create a cozy space hosting seated massage during your company events... visit our "Konki Corner"